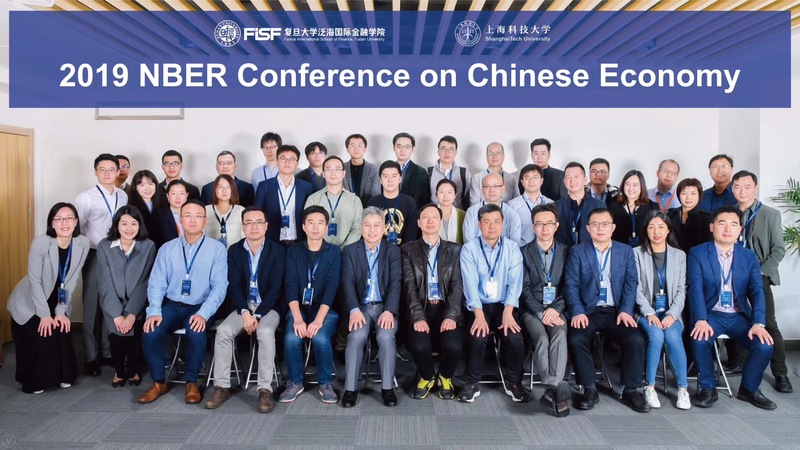 On March 21 and 22, 2019, the National Bureau of Economic Research (NBER) Chinese Economy Working Group held its Spring 2019 meeting in Shanghai. The meeting was co-hosted by the Fudan University's Fanhai International School of Finance (FISF) and ShanghaiTech University's School of Entrepreneurship and Management (SEM). Professor Hanming Fang (University of Pennsylvania and ShanghaiTech), Shang-Jin Wei (Columbia University and FISF) and Wei Xiong (Princeton University and Chinese University of Hong Kong, Shenzhen) are the co-organizers of the conference.
Founded in 1920, the NBER is a private, non-profit, non-partisan organization dedicated to conducting economic research and to disseminating research findings among academics, public policy makers and business professionals. The NBER Chinese Working Group focuses on all aspects of the Chinese economy. It holds two meetings each year, one of which has been hosted in China in recent years. It is one of the most high-quality research conferences on Chinese economy.
The two-day conference program consists of twelve papers that cover many important and timely aspects of the Chinese economy, including trade and innovation, trade liberalization, factor market distortions, internet finance, R&D offshoring, retail sector, monetary policy transmission, housing market transactions, housing policy and corporate finance. The diverse set of papers all use quantitative and rigorous methods to shed important light on the state of the Chinese economy. The presenters of this international conference include scholars from universities in China, United States, Singapore and Europe. It attracted more than one hundred participants from universities and industries.
Fanhai International School of Finance, Fudan University
Fanhai International School of Finance, Fudan University (FISF) is a business school founded in accordance with the management model and standards of the world's leading business schools, focusing on high-end financial talent education and financial think-tank research. The school was founded in late 2016 and officially opened in June 2017, with a core faculty team composed of outstanding scholars recruited from around the world. With the strong support from key stakeholdersand its commitment to academic excellence, FISF strives to become one of theworld's leading business schools for finance, serving business communities in China and beyond.

School of Entrepreneurship and Management, ShanghaiTech University
Founded in 2013 by the Shanghai Municipal Government in partnership with the Chinese Academy of Sciences (CAS), ShanghaiTech University is a research university that aims to nurture future leading scientists, inventors and entrepreneurs. The School of Entrepreneurship and Management (SEM) at ShanghaiTech University is established to meet the needs of China's economic transformation and to lead the new era of growth based on innovation and entrepreneurship. Its mission is to nurture the managerial talents to serve the real economy and to launch top-notch innovators into successful entrepreneurs.